Lehi Teeth Whitening, Dental Implants, Veneers
From routine cleanings and fillings to bruxism devices, Gordon Family Dental is equipped to handle all your dental needs. To help you understand your options, we've included descriptions of some of our leading services on this page.
Bonding
Cosmetic Contouring
Crowns and Bridges
Same day crowns
Specialty Dentures
Cosmetic Fillings
Veneers
Whitening
Sealants
Root Canal Therapy
Extractions
Scaling and Root Planing

Initial Oral Examination
Your initial oral examination includes a visual examination, charting, periodontal probing, diagnosis and treatment recommendations. We will also take x-rays, which includes the panoramic x-ray for proper diagnosis of the anterior (front) and posterior (back) teeth as well as the bite-wing x-ray series for proper diagnosis of proximal decay of posterior teeth.
Crowns and Bridges

Crowns are an extremely reliable way of repairing a tooth that has sustained extensive damage. A bridge may be used to replace missing teeth and is essentially two or more crowns connected by porcelain or gold material. Crowns and bridges may be necessary due to a large cavity or the result of some diseases. They may also be needed as a result of damage from an accident. In some cases enough tooth structure has been lost or weakened that a filling will not support chewing forces. In these situations it is necessary to place a crown.
Sometimes people have unexplained tooth pain, most often from back teeth that have fillings, which is often due to hairline cracks. A crown placed on these teeth usually relieves the pain and allows them to resume normal function.
A crown that we place on your tooth should last you many years if you take care of it. This includes daily flossing and brushing. We offer a guarantee on our crowns (we'll replace them at no charge) for 5 years if you come in every 6 months for your continuing care visits.
Crowns in our office are placed in two visits. In the first visit, we remove all decay and shape the tooth so that it is ready for a crown to be placed. You will leave this appointment with a temporary crown made of acrylic. At your second visit, the permanent crown is adjusted to fit your tooth and your bite. It is finally cemented into place leaving your mouth with a beautiful new tooth.
Implants
A Dental Implant consists of two main parts: a titanium anchor that acts like the root of a tooth and a crown that is connected to that anchor. Implants are becoming the #1 choice for many doctors and patients as the best way to replace a missing tooth. Over the last 40 years that implants have been used and studied, they have become more and more reliable and successful. Now, many implants will last a patient 20-30 years or more.

There are many factors that decide whether or not your mouth will accept an implant. We have partnered with several skilled surgeons in the Utah Valley area who can help you decide if an implant is right for you. Once your implant is placed, a healing time is allowed for your mouth to adjust and adapt to the implant, according to the surgeon's recommendations. While the implant is healing, a temporary tooth can be placed in the site so there will be no gaps in your smile. After the healing time is over, a customized crown will be made and cemented into place, leaving a beautiful new tooth in your mouth.
Bonding
Bonding is a type of restorative procedure used to repair chipped, cracked or miscolored teeth. The procedure consists of placing a primer on the tooth, followed by a bonding agent. After the bonding agent is cured, the final restorative material is placed on the tooth and sculpted to form the desired look.

Bonding can usually be done in one visit, allowing the patient to leave immediately with a nice looking tooth. However, bonding is not as strong as natural teeth and will not provide as long lasting results as a veneer or other restorative procedure might. It will usually require repair or replacement after about three years, depending on chewing habits and other factors.
Teeth Whitening
Whitening teeth is an exciting way to change your smile. It will brighten your teeth and give you a new look. We offer several types of teeth whitening to brighten your smile. Our "in-office" whitening is performed on your teeth in about 60-75 minutes while you relax in one of our comfortable dental chairs, reclined, watching a movie. An assistant will place a small barrier material over your gums to protect them from the bleaching gel, which is then placed on your teeth. We shine a UV free light on the teeth to aid in whitening quickly and thoroughly, and periodically the whitening product on your teeth is refreshed to yield maximum results. You should see a shade change in your teeth immediately after the process is finished.

An alternative to an in office whitening is to make take home bleaching trays, custom fit for your teeth, and whiten in the comfort of your home. Impressions are taken of your teeth and your bleach trays are made within a few days. Wear them for at least 30 minutes every day for as long as you continue seeing whitening (about 10-14 days for most people). This is a great way to bleach as much or as little as you wish and to maintain the bleaching done in an in office session.

We recommend an in-office whitening as a first step to quickly reach your teeth's maximum whiteness, then having bleach trays made to maintain the level of whiteness within the comfort of your own home. This will ensure a bright smile for as long as you continue to bleach.

Certain stains, such as those caused by tetracycline, are difficult to eliminate, and even after several months of bleaching may not be completely gone. Other stains, such as those caused by everyday eating of foods and natural yellowing over time, are more easily whitened and often show great results. Everyone's teeth are different however, and there is no way to predict how much your teeth will lighten as you bleach them.

Veneers
Veneers are thin pieces of porcelain or plastic cemented over the front of your teeth to change their color or shape. Veneers are used on teeth with uneven surfaces or are chipped, discolored, oddly shaped, unevenly spaced or crooked. Read More...
Crowns and Bridges
Crowns are synthetic caps, usually made of a material like porcelain, placed on the top of a tooth. Crowns are typically used to restore a tooth's function and appearance following a restorative procedure such as a root canal. When decay in a tooth has become so advanced that large portions of the tooth must be removed, crowns are often used to restore the tooth. Read More...
Root Canals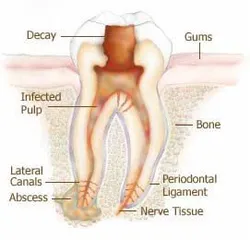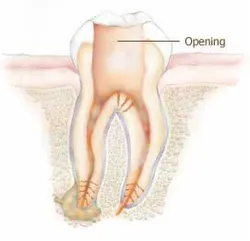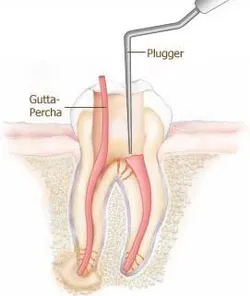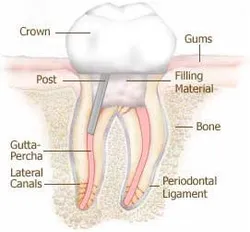 A root canal is a very common dental procedure that can provide an alternative to an extraction. Root canals are necessary to save a tooth when the pulp (the tiny collection of blood vessels and nerves) inside it becomes infected or very irritated. These problems can develop as a result of cracking and chipping, deep decay, repeated dental procedures (like fillings), or trauma. Some symptoms of infection and irritation might include swelling of the gums around a tooth, a small "bubble" forming on the gums, pain, and sensitivity to hot, cold, and biting pressure.

The procedure has several steps, beginning with removal of the injured pulp. The canal within is thoroughly cleansed and sealed to prevent re-infection of the canal space. After the root canal is finished, the best way to protect the tooth from having future problems is to place a crown.

The procedure usually takes one or two visits of about an hour. If there is discomfort after a root canal, it is usually mild and will generally go away within 24 hours.
Toothaches
Simple toothaches can often be relieved by rinsing the mouth to clear it of debris and other matter. Sometimes, a toothache can be caused or aggravated by a piece of debris lodged between the tooth and another tooth. Avoid placing an aspirin between your tooth and gum to relieve pain, because the dissolving aspirin can actually harm your gum tissue. Read More...
Dental Emergencies
Our goal is to help you to minimize the risk of emergency treatment. This is why we commit a generous amont of time designing a Lifetime Treatment Plan that will help you to offset the possibility of unforseen pain or tooth breakage. Read More...